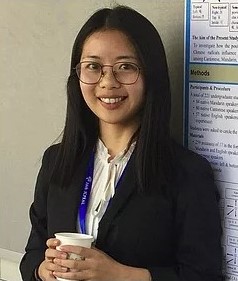 DENG, Qinli
Qinli Deng is a postdoctoral fellow of the Speech, Language and Reading Lab. Dr. Deng received her PhD degree in Psycholinguistics from The University of Hong Kong. Her research interests include neural mechanisms of sign language processing and literacy development of children who are d/Deaf or hard of hearing.
Publications
Deng, Q., & Tong, S. X. (2021). Language but not cognitive weakness in deaf or hard-of-hearing poor comprehenders. Journal of Deaf Studies and Deaf Education.
Deng, Q., & Tong, S. X. (2021). Suprasegmental but not segmental phonological awareness matters in understanding bilingual reading comprehension difficulties in Chinese and English: A 3-year longitudinal study. Annals of Dyslexia, 1-20.
Tong, X., Deng, Q., Deacon, S.H., Saint-Aubin, J., & Wang, S. (2020). To see or not to see: The roles of item properties and language knowledge in Chinese missing logographeme effects. Applied Psycholinguistics, 41(5), 1113-1139.
Deng, Q., Gu, F., & Tong, S.X. (2020). Lexical processing in sign language: A visual mismatch negativity study. Neuropsychologia, 148. 107629.
Deng, Q., Choi, W., & Tong, X. (2019). Bidirectional cross-linguistic association of phonological skills and reading comprehension: Evidence from Hong Kong Chinese-English bilingual readers. Journal of Learning Disabilities. 52(4), 299-311.